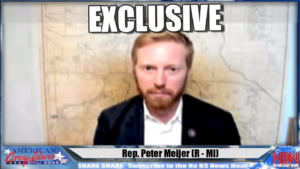 EXCLUSIVE: Just Back From Kabul
Rep. Peter Meijer (R-MI) says Biden's bungled exit has just extended the war on terror a decade. How much money did the CIA promise the Taliban, in a secret Monday meeting, to help us get away… from the Taliban?  The congressman says the US controls $9 billion of Afghan money.
Closer to home: The streets are flooded again, the power's out and the Feds raided City Hall.
Where are we living? Kabul?
As unemployment sets to expire in Michigan, why won't anyone pick up a penny?
Comedian Detroit Red from the stoop of a corrupt city councilman, "Motherf*&#cker doesn't even have the balls to kick me off his porch."
The news doesn't get any better than this.
#NoBullshit
Podcast: Play in new window | Download (Duration: 1:25:18 — 117.3MB)
Subscribe: Google Podcasts | RSS | More