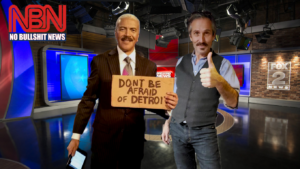 The voice and soul of Detroit hangs up his microphone next Friday, after 32 years as anchor of Fox 2 news.
Huel Perkins looking back on Kwame Kilpatrick; Detroit's fall, rise, and fall again; and the future of the American news business.
"No BS News is the future of journalism", he says.
How many terrorists have penetrated the United States, asks Immigration expert Todd Bensman? Has the US surrendered its border?
Debt and disorder. Who's looking out for our young?
Michigan AG Dana Nessel has abandoned the old.
Our correspondent in Ukraine says freedom fighters are running out of ammo.
Plus, Comedian Detroit Red on gas, beef, and weed.
Podcast: Play in new window | Download (Duration: 1:41:42 — 140.0MB)
Subscribe: Google Podcasts | RSS | More