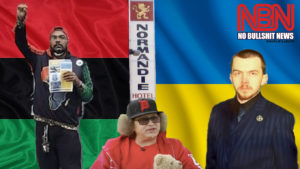 This week — Minister Malik Shabazz, leader of the Detroit Black Panthers, demands justice, equality and coney island hot dogs without rat hair.
Deacon Taras Petros of Hamtramck, Michigan has returned home from the Ukraine War. His hummer remains in the war zone. His report from the theater.
Comedian Detroit Red has been put out on the street by his ex-wife. With no place to go, he takes a room at a skid row hotel on Woodward Avenue. $133 a week. Communal toilet. The first in an occasional series.
Podcast: Play in new window | Download (Duration: 1:07:41 — 155.2MB)
Subscribe: Google Podcasts | RSS | More